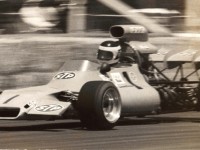 Graham McRae (born 5 March 1940) is a former racing driver from New Zealand.
McRae's single outing in the Formula One World Championship was at the 1973 British Grand Prix on 14 July 1973, where he retired in the first lap. McRae also competed in the 1973 Indianapolis 500, finishing in 16th position and earning Rookie of the Year.
McRae was born in Wellington. Before entering Formula One, he had achieved much better results in Formula 5000, taking part in several championships using this discipline's regulation. McRae was Tasman Series Champion three years in a row, from 1971 to 1973, also taking the US F5000 Championship crown in 1972, with three race wins. In 1978, he won his fifth F5000 title, the Australian Drivers' Championship.