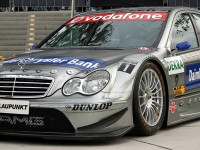 Throughout its long history, Mercedes-Benz has been involved in a range of motorsport activities, including sportscar racing and rallying, and is currently active in Formula Three, DTM and Formula One.
The two companies which were merged to form the Mercedes-Benz brand in 1926 had both already enjoyed success in the new sport of motor racing throughout their separate histories. A single Benz competed in the world's first motor race, the 1894 Paris–Rouen, where Émile Roger finished 14th in 10 hours 1 minute. The Mercedes Simplex of 1902, built by DMG, was Mercedes' first purpose built race car — much lower than their usual designs — which were similar to horse carriages; that model dominated racing for years. In 1914, just before the beginning of the First World War, the DMG Mercedes 35 hp won the French Grand Prix, finishing 1-2-3.

Karl Benz's company, Benz & Cie. built the "bird beaked", Blitzen Benz that set land speed records several times, reaching 228.1 km/h (141.7 mph) in 1911. That record gained that model the reputation of being faster than any other automobile — as well as any train or plane. They constructed many aerodynamically designed race cars.