Catcher Holdings, Inc. To Hold Presentation for Law Enforcement and Security Professionals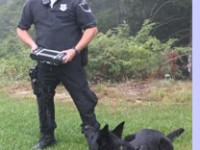 Massachusetts Security, Military and Law Enforcement Chiefs to Attend
Leesburg, VA
Catcher Holdings Inc. (OTC Bulletin Board:  CTHH) (www.catcherinc.com) announced its first presentation for Massachusetts Law Enforcement, Security and Military Professionals will be held at The New American Castle Museum, Inc. located in Middlefield, MA on September 13, 2007.
Catcher Holdings Inc. is a revolutionary developer of ruggedized, real-time, mobile computer platforms.  The CATCHER™ ruggedized mobile computing unit is built to give the military, Homeland Security, law enforcement, first responders and security professionals a decided advantage in the war on crime and terror.  The highly durable CATCHER™ unit offers superior convergent technology to assist security and operations professionals survey, assess and communicate information. CATCHER™ provides  a multitude of features including fingerprint reading, dual full motion video cameras, still camera, integrated voice recorder, GPS, WiFi, a panic button integrated voice recorder, with additional easy to use suspect submission form and translation capability   The CATCHER™ unit was specifically designed to continue to perform under extreme temperature and weather conditions that enforcement professionals often encounter.
The New American Castle Museum, Inc. is located in Middlefield, MA and hosts public service events. Tim Morrow, member of the Castle Museum's Advisory Board of Directors, states   "We are very happy to offer the Castle for this groundbreaking event.  Western Massachusetts in particular has specific challenges that must be addressed such as hilly and heavily forested terrain and lack of cell tower coverage which hinders communication. CATCHER's formidable technology to be presented here at the New American Castle Museum will give military, law enforcement and security professionals the one tool they need to be successful in all operations."
Invitations have been extended to Chiefs of Police, State Trooper Captains and Lieutenants, Military Base Leaders, First Responder Chiefs and Security Chiefs at Universities and Corporations. For more information or to receive an invitation please contact Patricia Baker, The Big Picture Agency LLC 413-623-0950, pbaker@bigpictureagency.com.
About Catcher Holdings, Inc.
Catcher Holdings, Inc.'s wholly-owned subsidiary, Catcher, Inc., is the developer of the CATCHER™ device. The CATCHER™ device is the culmination of new technology breakthroughs, extensive research and product development that the Company believes will meet the needs of many government agencies and commercial entities for a ruggedized, portable, handheld computer, communications and telemetry control device. The unit was designed and engineered to provide field personnel and "First Responders" access to mission-critical information in the form of wireless or wired, real-time bi-directional voice, video, text, telemetry and data-enabling command center personnel to remotely view an incident or job site. The device weighs just 5.8 lbs. when equipped with two batteries that can last up to 8 hours, and, without the batteries, weighs 3.8 lbs. The CATCHER™ device is 10 inches wide, 7.25 inches tall, 2.25 inches deep, with a sunlight-viewable 6.4-inch diagonal VGA LCD backlit touch screen. Photographs and detailed descriptions of the new CATCHER™ device are available on the company's website at http://www.catcherinc.com.
Special Note Regarding Forward-Looking Statements: This press release contains forward-looking statements within the meaning of the Private Securities Litigation Reform Act of 1995 involving known and unknown risks, delays, and uncertainties that may cause the Company's actual results or performance to differ materially from those expressed or implied by these forward-looking statements. These risks, delays, and uncertainties include, but are not limited to: the Company's ability to generate product sales and operating profits; the Company's ability to obtain sales prices at or near its MSRPs; vulnerability to technology obsolescence; competition by better capitalized companies; difficulty in managing growth; dependence on key personnel; and other risks which are discussed in the Company's filings with the Securities and Exchange Commission. The Company undertakes no obligation to update any forward-looking statements.