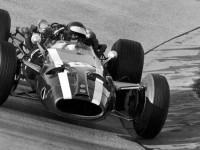 Throughout its history, the Italian auto manufacturer Maserati has participated in various forms of motorsports including Formula One, sportscar racing and touring car racing, both as a works team and through private entrants.
One of the first Maseratis the Tipo 26 driven by Alfieri Maserati with Guerino Bertocchi acting as riding mechanic won the Targa Florio 1,500 cc class in 1926, being ninth place in overall.
The Biturbo competed unsuccessfully in the British Touring Car Championship in the late 1980s, the European Touring Car Championship and the World Touring Car Championship (1987).
The cars for the 1987 World Touring Car Championship season were entered by Pro Team Italia/Imberti. The car was in Group A Division 3 competing against the Ford Sierra RS Cosworth and later in the season Ford Sierra RS 500. The car was driven by Bruno Giacomelli, Armin Hahne, Marcello Gunella, Mario Hytten, Nicola Tesini, Kevin Bartlett.
For the British Touring Car Championship the cars were entered by Trident Motorsport. This was for the 1988 and 1989 seasons. The car was driven by Nick May, John Lepp, Vic Lee.
Maserati participated in Formula One motor racing during the 1940s and 1950s. Its works Formula One programme was broadly successful, providing a handful of Grand Prix wins and a world title for Juan Manuel Fangio. Maserati designed three Formula One cars: the Maserati 4CLT, the Maserati A6GCM and the Maserati 250F, and the pre-WWII Maserati 4CL was also used with some success. However due to financial difficulties in the late 1950s the team had to withdraw from Formula One despite the 250F still being successful. Privateers, including Fangio, continued to use the 250F until 1960.