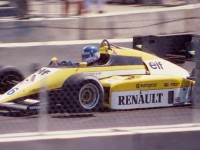 Renault has been associated with Formula One as both constructors and engine suppliers for various periods since 1977. It was in 1977 that the company entered Formula One as a constructor, introducing the turbo engine to Formula One in their first car, the Renault RS01. Although the Renault team won races and competed for world titles, it withdrew at the end of 1985. Renault continued its involvement as a supplier of engines to other teams, which it had started doing in 1983, until 1986, and again from 1989 to 1997.
Renault returned to Formula One in 2000 when they acquired the Enstone-based Benetton Formula team (formerly Toleman Motorsport), a team which had won the drivers' championship in 1994 and both the drivers' and constructors' championships in 1995. For the first two seasons under Renault the team continued to be called "Benetton Formula" and used "Benetton" as their constructor name. In 2002 Renault rebranded the team as the "Renault F1 Team" and started to use "Renault" as its constructor name. Under this Renault guise, the Enstone team won the drivers' and constructors' championships in 2005 and 2006.
At the end of 2009, the Renault car company sold a 75% stake in the team to the Genii Capital investment company. At the end of 2010, Renault sold its remaining 25% share to Genii, which then decided to enter into an alignment with Group Lotus.
For the 2011 Formula One season the team competed under the name Lotus Renault GP, which was the last year that the name "Renault" was used as a constructor name in Formula One.
Following the withdrawal of the Renault car company and the increased involvement of Lotus, the Enstone team was renamed to Lotus F1 Team in 2012. The team continues to be coordinated from its UK base at Enstone, Oxfordshire where the chassis are designed and built. The team continues to use engines supplied by Renault through their Renault Sport F1 enterprise in Viry-Châtillon near Paris.
Renault has also supplied engines to other teams, including Team Lotus (1983–1987), Benetton Formula (1995–1997) and Williams F1 (1989–1997). As an engine supplier, Renault has contributed to eight drivers' world championships (1992, 1993, 1995, 1996, 1997, 2010, 2011 and 2012 won by Nigel Mansell, Alain Prost,Michael Schumacher, Damon Hill, Jacques Villeneuve and Sebastian Vettel respectively) and nine constructors' world championships (1992–1997 and 2010–2012) as engine supplier for Benetton Formula, Williams F1 and Red Bull Racing. The engine supply has continued during periods when Renault was not active as a constructor in its own right.