The New American Castle Museum's "Honoring Our Elders"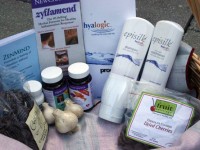 Project a Big Success
MIDDLEFIELD, MA – The New American Castle Museum's 2010 project    "Honoring Our Elders,"  was a big success.  The Museum provided over 150 lbs. of produce grown in the Castle gardens to area seniors.
We'd like to thank our generous sponsors who helped make this project a great success:  Bonnie Plants, Farfard, Gardener's Supply Company, Hyalogics, New Chapter, and Traverse Bay Farms. We also thank our volunteers who gave so generously of their time and effort, Rachel Sable and Amy Moore of Alpharetta, GA," says Patricia Baker, Vice President of the Museum. "Although it's December we are already planning for our garden next Spring and are forging new partnerships with sponsors so that we can meet more seniors' needs."  Stark Bros. recently joined the Elders' project for 2011 and apple and peach trees will be planted in early Spring.
Our many composting efforts continue, even throughout the winter, the hazelnut/truffle tree project is well underway along with a large mushroom bed and two shiitake logs," adds Baker.  "We've worked some very long hours, but it's all worth it!"
The Castle's green and environmentally sound projects are what makes The New American Castle Museum an especially valuable community asset. The New American Castle Museum researches and tests many green products and via their website provides information and education nationally and internationally on maintaining a sustainable green lifestyle.
For More Information please contact Patricia Baker, The Big Picture Agency LLC, pbaker@bigpictureagency.com
About The New American Museum, Inc.
The New American Castle Museum, Inc., is a 501 C3 non-profit organization located in the western hill town of Middlefield, MA, Hampshire County. Museum hosts presentation events and Private Placement Investor Meetings.